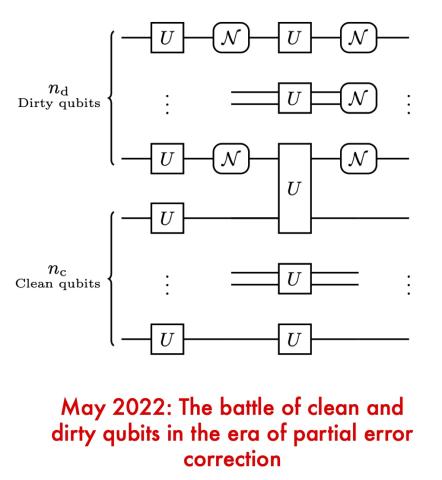 When error correction becomes possible it will be necessary to dedicate a large number of physical qubits to each logical qubit. Error correction allows for deeper circuits to be run, but each additional physical qubit can potentially contribute an exponential increase in computational space, so there is a trade-off between using qubits for error correction or using them as noisy qubits.
In this work we look at the effects of using noisy qubits in conjunction with noiseless qubits (an idealized model for error-corrected qubits), which we call the "clean and dirty" setup. We employ analytical models and numerical simulations to characterize this setup.
Numerically we show the appearance of Noise-Induced Barren Plateaus (NIBPs), i.e., an exponential concentration of observables caused by noise, in an Ising model Hamiltonian variational ansatz circuit. We observe this even if only a single qubit is noisy and given a deep enough circuit, suggesting that NIBPs cannot be fully overcome simply by error-correcting a subset of the qubits. On the positive side, we find that for every noiseless qubit in the circuit, there is an exponential suppression in concentration of gradient observables, showing the benefit of partial error correction.
For details see
"The battle of clean and dirty qubits in the era of partial error correction", Daniel Bultrini, Samson Wang, Piotr Czarnik, Max Hunter Gordon, M. Cerezo, Patrick J. Coles, Lukasz Cincio. arXiv:2205.13454.