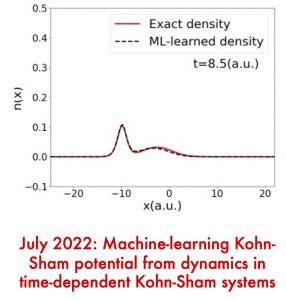 Machine learning can help make better approximation to Kohn-Sham potential. In this work, we present the first demonstration of using machine learning to investigate Kohn-Sham potential from the evolution of system's density without resorting to the exact Kohn-Sham potential.
Hamilton's equations in Kohn-Sham system was developed under adiabatic approximation. Based on the equations, a neural network with a well-designed loss function is implemented to reproduce the dynamics of the Kohn-Sham system. The corresponding Kohn-Sham potential is revealed from the dynamics.
For details see
"Machine-learning Kohn-Sham potential from dynamics in time-dependent Kohn-Sham systems", Jun Yang, James Whitfield, arXiv:2207.00687.