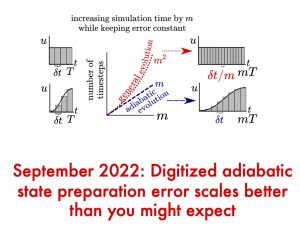 Preparation of many-body states is an important task for applications such as quantum simulation and quantum sensing, and digitized adiabatic evolution (DAE) is the most common and practical way to achieve this task on a quantum computer.
We derive and numerically demonstrate improved error bounds for state preparation via DAE. These new bounds explain several features of DAE that were previously not understood, including an intriguing self-healing property.
Our improved error bounds show that the resources required for DAE scale more favorably than previously thought, and also reveal the relationship between the quantum approximate optimization algorithm and annealing-based optimization, even at finite number of layers.
For details see
"Digital adiabatic state preparation error scales better than you might expect", Lucas Kocia, Fernando Calderon-Vargas, Matthew Grace, Alicia Magann, James Larsen, Andrew Baczewski, Mohan Sarovar.  arXiv:2209.06242